Post Match Report vs. Cavalry FC
Valour FC boldly ventured into the dragon's den that is ATCO Field in Calgary under-manned and facing historically long odds, and then exited with something few Canadian Premier League squads manage – a coveted and valuable road point.
Travelling without six players due to injury and then losing a seventh 15 minutes into the match, Valour fought back from a 1-nil first-half deficit to earn a point in a 1-1 draw with Cavalry FC.
And it came on a pitch that is traditionally a nightmare for opponents, as dating back to 2019 Cavalry had amassed a 26-6-6 home record – best in the CPL's short history.
Still unbeaten in league play, Valour is now 1-2-0 for five points and returns home to face HFX Wanderers on Saturday at 3 p.m. at IG Field.
"Look, we have to change the mindset of the team, of the club," began Valour GM and head coach Phillip Dos Santos after the match. "That's something we hammered in preseason.
"These are places where it's hard to get points, no doubt about that, but this team needs to get used to gaining points in difficult places and being able to compete in hard places because this is what it's all about – these are points you need to get, even in moments where things are not easy."
Not making the trip to Calgary for the Sunday matinee were defenders Andrew Jean-Baptiste and Jordan Haynes – both of whom have not been available yet this season – along with centre back Matthew Chandler, out indefinitely with an ACL injury, forward Jaime Siaj and midfielders Marcello Polisi and Raphael Ohin. Young defender Eskander Mzoughi travelled but was not available.
That situation looked to become even bleaker when centre back Guillaume Pianelli was forced to leave in the 16th minute due to a leg injury.
Cavalry would open the scoring in the 38th minute following some superb work by two former Valour players, as Fraser Aird's long throw-in was tracked down by Ali Musse, who then fed a pass to Myer Bevan for the first goal.
Valour countered in the second half, when a superb through ball by Andy Baquero was tracked down by Kian Williams, who flicked a back pass to Anthony Novak. His shot was deflected to Williams, who then buried a shot into the top of the net for his first CPL goal.
—
Kian Williams goal
https://twitter.com/onesoccer/status/1652803002451755010?s=20
—
"It was nice… hopefully the first of many," said Williams with a grin. "I just remember the ball dropped, I tried to bring it down and hit as hard as I could, really, because I know when the ball is bouncing the main thing is to just get it on target.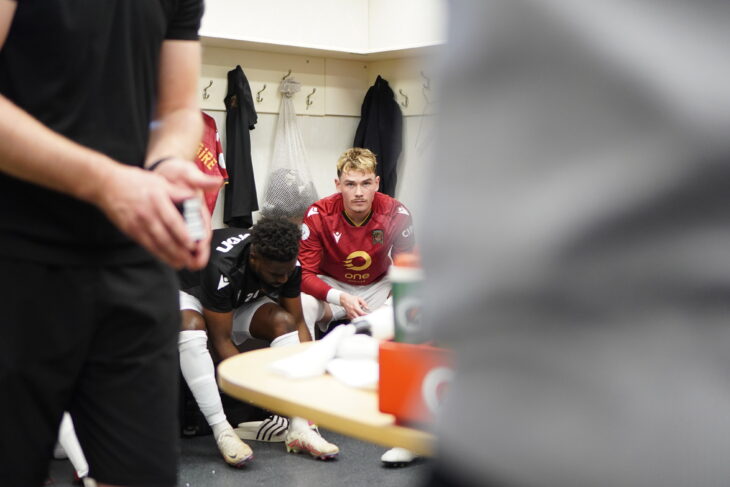 "… We're just trying to pick up points, that's the main thing. This is a tough place to come to, but we managed to get a point and were unlucky not to get two more."
Valour managed nine shots, with just the one on target and needed a spectacular save by goalkeeper Rayane Yesli in the 92nd minute to preserve the draw. But, again, given how crowded the infirmary is and the difficulty of the venue, Valour exited last night satisfied with the result.
"The guys were rewarded for their fight, their spirit and their mentality in which they approached the game and the commitment they had toward each other," said Dos Santos. "They understand every point is valuable. At the end of the season there are moments you regret points you could have won somewhere and didn't, so these points are important to get."
—
'V' NOTES:
-Dos Santos said Pianelli suffered a calf injury and the club didn't want to risk any further issues given how thin the roster currently is along the back line.
-Centre back Kladi Cela, signed earlier in this week from Vaughan Azzurri, played the entire match and was steady.
"He's an intelligent player," Dos Santos said of Cela. "Today football players need to be intelligent. If you're a good player, you're smart and you're going to play within your limitations knowing that it's your first game with a new team. You're going to need to keep things extremely simple and he did that. I'm happy for him."
-Sunday marked just the second time in seven matches Valour left ATCO Field with points. The club is now 1-1-5 in Calgary, with a lone victory a 4-2 decision on October 30, 2021.
—
CAVALRY FC 1 FC VALOUR FC 1
GOALS:
Cavalry FC
37:53': Myer Bevan (assist: Ali Musse)
Valour FC
55:43': Kian Williams
—
CARD SUMMARY
Valour FC:
29:24': Pacifique Niyongabire (yellow, reckless offence)
80:21': Dante Campbell (yellow, tactical foul)
—
Cavalry FC
40:18' Jesse Daley (yellow, tactical foul)
—
VALOUR STARTING XI (4-3-3)
GK Rayane Yesli
D Andy Baquero
D Guillaume Pianelli
D Klaidi Cela
D Matteo de Brienne
MF Diego Gutiérrez (C)
MF Dante Campbell
MF Juan-Pablo Sanchez
FW Kian Williams
FW Pacifique Niyongabire
F Anthony Novak
—
Valour substitutions:
15:31': on Jared Ulloa; off Guillaume Pianelli
87:20': on Walter Poncé; off Kian Williams