"The job's not done and we're going to give it everything we've got."
It's a nearly impossible thing to quantify or measure, but if there was a way to take a reading on the Valour FC confidence meter it would be into the stratosphere right now.
And their collective timing, given the final sprint toward a Canadian Premier League playoff spot, couldn't be better.
"It's been incredible lately," said Valour forward Matteo de Brienne after a training session this week. "I just see a bunch of guys working really hard in training. We had a spell where we were going up and down a mountain. But as soon as we figured every team out, we started to get on a climb – and we're not done yet.
"The confidence level in each individual and our belief in each other has been really good and there's definitely been a big shift since the start of the year.
"We've had a lot of players in and out of our group and that's really helped because everybody in training has been fighting for that opportunity. Once we got our players in, we've seen a very competitive shift in everything."
Valour is 5-2-2 in its last nine matches and with those results has moved into the CPL playoff picture with 37 points on a 10-7-8 record – tied with Pacific FC, who have a match in hand and are 10-7-7 – for fourth place overall. Valour does have an advantage in the goal differential tiebreaker at +7, while Pacific is even.
Just five points separate first place Atlético Ottawa from Valour and Pacific as the top five teams are now in a serious dogfight for the four playoff spots. Valour will have to finish its work on the road as its final three regular season matches will be away from IG Field, beginning Friday night in Toronto against York United FC.
Valour FC GM and head coach Phillip Dos Santos has seen the confidence level spike upwards, too, and it is significantly higher than late last season when he was parachuted in as the new boss.
The club finished one point out of a playoff spot last year, and Dos Santos has seen significant growth in the group this season.
"We're a bit disappointed because we feel like we've done enough to be in that playoff spot already and not be so tight and depending on certain results coming at this point in time," he said. "But I always need to assess the progress and when I assess the progress, I think that we're building an identity for our club and that's a difficult thing to do. To scrap for results is one thing, building an identity is very different.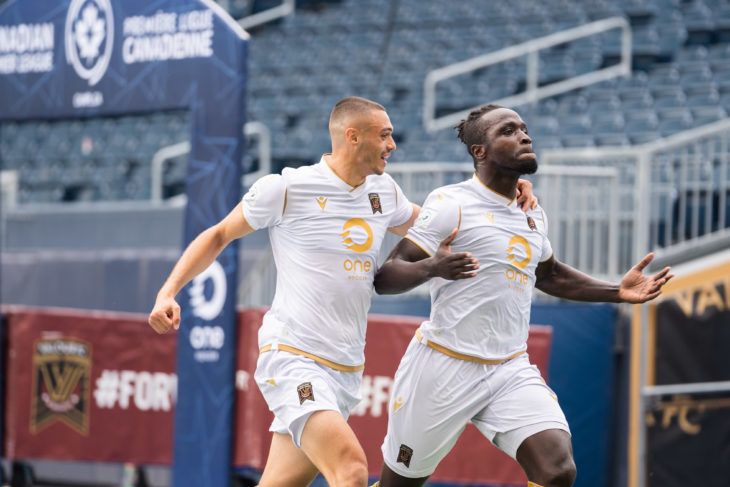 "When you're establishing ideas to a new group even though there's a few returning players there's still a good share of players that are new. Last year when I arrived it was a moving train already and it was a team trying to obtain results. There were a lot of strategical approaches in our training sessions. This year we started hard with what we wanted to bring to the group and how we wanted the team to play… these things take time, especially when you have players coming in progressively. Now we're in the second phase of the season there's more awareness in what we want our players to do in the different moments of the game.
"This growth is normal," he added. "I'm excited to see where this is going to go. Even though there's going to be movement in our roster there's such a good foundation that has been set not only on the Xs and Os, but with the maturity the team shows in every game."
Valour's regular-season schedule will continue after Friday with stops in Calgary to face Cavalry FC on October 2nd and then the finale on October 8th in Alberta against FC Edmonton.
The hope now is the club will have one more match at IG Field – a playoff contest as part of an opening round home-and-home series – especially after last Sunday's 1-1 draw with Ottawa was played in front of a season-high and energetic crowd of 5,227.
"Having that run of home games and seeing the fans and the motivation they give us has been something positive for us to build on," said de Brienne. "Now we've got some road games, but we know we're not going to be far from home and a lot of us are going to have family on these trips because we have so many players from Ontario and Quebec coming.
"We just feel like we've got so much more to do. The job's not done and we're going to give it everything we've got."
—
'V' NOTES
-Centre back Nassim Mekideche has returned to training and should be available Friday. Forward Moses Dyer has not yet resumed on-field work and Dos Santos lists him as 'day-to-day.'