"We've stressed it before: the quality of this team is their togetherness" | Match Preview
It was late last Tuesday, not long after Valour FC had finished applying the final strokes to a masterful 3-nil win over FC Edmonton, when skipper Rob Gale plopped down in front of the camera for his post-match media session.
And it was while providing praise of his squad that the GM and head coach also offered an assessment which could certainly be applied to Valour's work through the first half of the 2021 Canadian Premier League season.
"We've stressed it before: the quality of this team is their togetherness," said Gale. "When they're working for each other and they're passing and rewarding the runs like they have been for the last two games then we're a serious handful for anybody."
Now, to call the first chunk of Valour's 2021 season a roller-coaster would be a disservice to amusement park rides everywhere. Opening up their '21 campaign in the 'Kickoff' bubble at IG Field, Valour won its first three matches, all by 2-nil scores, and was 6-0-1 through mid-July before hitting a steep incline.
Over the next six matches the club managed just one scoreless draw against five losses while being out-scored 9-2. But since then the squad has found life again with a 3-2 Canadian Championship win over Atlético Ottawa that was followed by the lopsided victory over Edmonton.
And so as the squad begins the second half of the season Sunday night on the West coast against Pacific FC, Gale is right about this: when Valour plays like they have been in the last two matches – and for good chunks earlier in the season – they will be a 'serious handful for anybody.'
With the club at the halfway mark we thought we'd take a look at 10 pertinent numbers as it relates to what's in the rear-view mirror and what is ahead.
14
Remaining regular-season matches for Valour.
The squad will be at home for eight of those matches and on the road for six. Valour has a four-match homestand from September 4-18 and a three-match stretch from October 2-11 before finishing with three of its last four on the road.
Not included here is Valour's next Canadian Championship match, which will be held next month in Hamilton against Forge FC
—
+6
Valour's goal differential through the first half of the season.
Valour is scoring more this year, with 17 goals in 14 matches, but it's the overall defending which has vastly improved over the past two seasons. The squad was a horrific -22 in goal differential in 2019 and -1 in last year's seven matches at the Island Games in PEI.
—
7
Valour's win total at the halfway mark, to go along with a draw and six defeats.
In year one, 2019, the club won just eight times in 28 matches, finishing with a 8-4-16 mark.
—
4/6
Goals by Valour forward Austin Ricci in CPL play (4) and overall including the Canadian Championship (6). Of note: Marco Bustos scored eight goals for Valour in 2019 to establish the club's single-season record. Both Michael Petrasso and Tyler Attardo had six goals that same year.
—
7
Jonathan Sirois, Valour's 20-year-old keeper on loan from CF Montreal, has posted seven clean sheets this year – tied for the CPL lead with Callum Irving of Pacific FC. Another number inside that total which is telling: Sirois has made 52 saves this season, by far the most in the league.
—
8
Clean sheets by Valour through 14 matches this season, including the seven by Sirois and the nil-nil draw with Edmonton backstopped by veteran Matt Silva.
Valour had six in all of 2019, led by Matthias Janssens with four.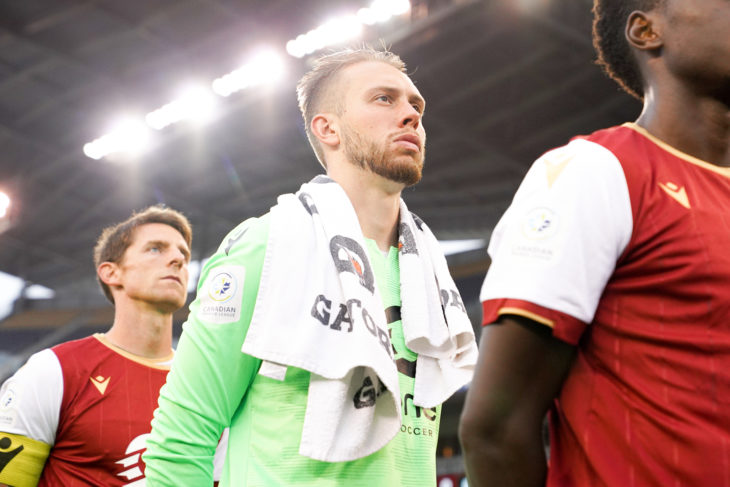 —
1,260
Minutes played this season by Valour's Stefan Cebara. Arguably Valour's most-versatile player, Cebara is also the club's iron man. He leads the CPL in minutes played and has been especially valuable since the season-ending knee injury suffered by Andrew Jean-Baptiste.
—
4
Assists by Valour midfielder Sean Rea, another loanee from CF Montreal. That ties the 19-year old for the CPL lead and is one shy of Valour's single-season record of five, set in 2019 by Petrasso.
—
3
Penalty kick goals by Valour midfielder Moses Dyer. The Kiwi hasn't missed on his three opportunities from the spot, and his three penalties ties him for the CPL team with Mo Babouli of Forge FC.
—
17/9
Valour has 17 goals in the regular season, coming off the feet of nine different players.
Ricci leads with four, followed by Dyer and rookie William Akio (3 each), Jean-Baptiste (2) and one each from Cebara, Rafael Galhardo, Rocco Romeo, Raphael Ohin and Andy Baquero. Ricci had two more in the Canadian Championship win over Ottawa, with a third coming from Rea.