"He also said if I show quality that they wouldn't mind putting a young guy in and trusting me. That's what I plan to do."
Jonathan Sirois wants the work. Actually, check that… he absolutely craves the work — just like any young professional soccer player eager for valuable playing time.
That's why the CF Montreal goalkeeper is now so eager to chase those minutes with Valour FC, after being officially loaned by the MLS club last week.
Of course it helps, too, that James Pantemis – another CF Montreal goalkeeping product – spoke so highly of his experience with Valour at the Canadian Premier League's Island Games last summer.
"I'm really excited for this year to maybe go through the same process James did last year in getting some minutes with Valour and some experience," said Sirois this week, when reached by valourfootball.club in Montreal. "If I could get that at my age that would be very beneficial to me.
"I've talked a lot to James. We spoke last year when he got back (from Winnipeg) and he told me only positive things about his experience at Valour. We could see it, too, with the MLS games he played. He looked very comfortable.
"I remember him telling me that those seven games he played for Valour were so important for that."
Sirois – along with midfielder Sean Rea – have both been loaned by CF Montreal to Valour FC. Both very much remain in the plans for the MLS club, especially as Quebec products, but both also need to get on the pitch in real games.
"Sirois will have the opportunity to play every weekend, which would not have been possible here," CF Montreal Sporting Director Olivier Renard told reporters last week. "It's a great opportunity for Jonathan, who isn't even 20 yet, to gain experience, like James (Pantemis) did when he was loaned to Valour last season."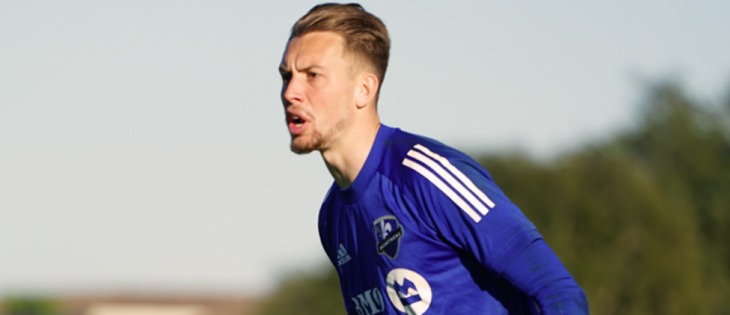 The 19-year-old keeper arrives in Winnipeg on Friday and is eager to both battle with and learn from veteran Matt Silva, along with Valour U Sports draft pick Rayane Yesli.
Sirois recently went through CF Montreal's training camp and was listed behind Clement Diop and Pantemis on the depth chart. And then earlier this month Montreal added Sebastian Breza on loan from Bologna FC.
There have been no promises made by Valour FC boss Rob Gale, but in Winnipeg he'll have a real shot at real minutes.
"He said that coming in it was still going to be a battle with the other keepers, that I still had to prove my qualities and confirm my spot," said Sirois. "He also said if I show quality that they wouldn't mind putting a young guy in and trusting me. That's what I plan to do.
"I don't mind not having my spot guaranteed. At the end of the day it will push me to train hard every single day and really work hard to prove I should be the starting keeper. I'll come in and give my best and try to prove I deserve that No. 1 spot – just like everyone else will be doing.
"But the chance for minutes is important," added Sirois. "It's during real games where you see if you're progressing or not. So, to get some real minutes in real games – especially professional games – will be important in that. The stakes are higher and because it's professional you're not just playing for the fans, but for your livelihood. You have to perform."
Even with a detailed scouting report from Pantemis on Valour FC and Winnipeg, Sirois could get the chance to do something his predecessor never did during his short stint – play a game in front of fans at IG Field.
"When I talked to the coaches they told me there is a very big stadium there and if we get the chance to play in front of fans that it's an incredible atmosphere," Sirois said.
"Plus, I've done some research and I watched some games last year, especially because James was there. I liked what I saw from the team. I'm excited to see that and the chemistry they told me they have."