"It was important for me to come in this week." | Pantemis stops in Winnipeg on way to Mexico
James Pantemis could really get used to this. After all, he can confirm firsthand that there's absolutely nothing like pulling on Canada's colours for an international event.
And Valour FC's goalkeeper will get to experience that thrill all over again this weekend as he first heads home to Montreal on Friday and then sets off to Guadalajara, Mexico on the weekend to join Canada's 2020 Olympic qualifying squad for a pre-CONCACAF Championship camp.
"It's always an honour to represent your country, especially at a prestigious tournament like this where we're qualifying for the Olympics," said Pantemis after Wednesday's morning session on the third day of Valour FC training camp.
"I'm very optimistic for the group. These are the moments you dream about as a kid… representing your country and playing in an international tournament. I'm just going to go there and have fun and try to make history for the country."
Canada's Olympic qualifying squad will be officially announced on Thursday, and Pantemis – the oldest of four keepers named to the provisional squad last month – not only will make the roster, but could push for starts for matches against El Salvador (March 21), Haiti (March 24), and Honduras (March 27) in Group B action.
The top two teams from each group advance to the CONCACAF Semi-finals, with the two winners of those matches qualifying for the Tokyo 2020 Olympics.
"It's a different kind of football. The experience you get in international football is nothing compared to what you get representing your club," said Pantemis, who was the back-up keeper for Canada in a friendly against Iceland in January.
"Just putting on your badge and singing the national anthem with your fellow countrymen… you meet guys from all over the world, you create good relationships, you play against unbelievable teams and you try to make the country proud and get everybody behind us."
Canada's Olympic qualifying squad will spend a week in Guadalajara to get used to the altitude and play an exhibition match prior to their meeting against El Salvador.
"We'll get a feel for the group, go over our tactics and get used to the altitude because that's going to be difficult going into Mexico," Pantemis said. "But we'll try to get as ready as possible for that first game.
"Nothing is guaranteed. You've got to go in there and perform. I'm not going to take anything for granted going in for Day 1 and looking to play. So, I've just got to do my thing and hopefully it works out."
Pantemis had the option of flying in for the first part of Valour camp, as he has done, or waiting until after the Olympic qualifying tournament. But the 23-year-old keeper, on loan from the Montreal Impact, wanted to get a sense for his new surroundings and his new squad.
"I just wanted to get a feel of the city, get to know the guys and the coaching staff again," he said. "We're building a foundation for the season and I wanted to be a part of it and meet everybody. It was important for me to come in this week.
"I'm excited by what I see and very optimistic as well. We've got a couple of guys coming in, too, in a couple of weeks (Amir Soto and Arnold Bouka Moutou). We're just getting the pieces together and I'm really looking forward to the season."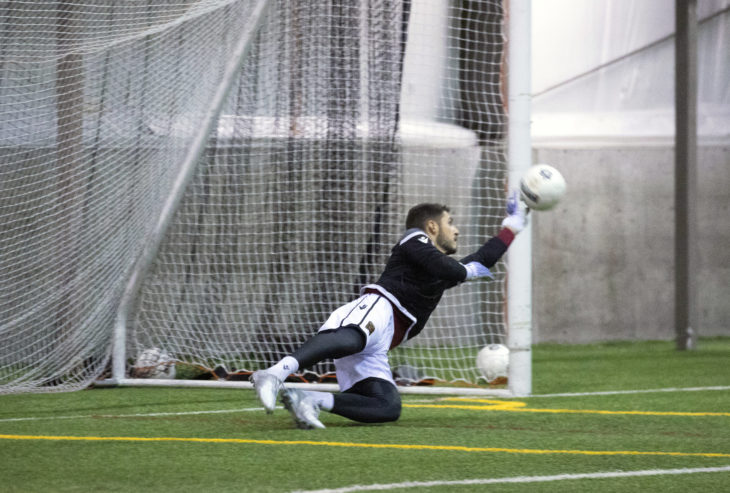 'V' NOTES…
KEEPER CHATTER:
Pantemis was one of a handful of players who stood out on the third day of camp, but his departure on Friday will leave Valour thin at the position. Both Tyson Farago and Svetik Artemenko are banged up and the club called on WFC Manitoba Residency Program keeper Ryder Anthony to help during sessions this week.
Valour FC will be bolstering the position soon, though, with someone who can back up Pantemis. The announcement of that addition should come early next week.
"Unfortunately, we have a couple of injuries in the goalkeeper position so we're going to have to make a move, which we are in the process of doing," said Valour FC GM and head coach Rob Gale. "We're looking at temporary solutions but, obviously, as the season comes we have to have two goalkeepers on the roster.
"James will be busy this season and play the majority of the games. That's why we brought him here. He's every bit an MLS goalkeeper, no question about that."