"This is pro sports – you need to win."
The to-do list is long, both in the short and the long term. And Valour FC GM and head coach Phillip Dos Santos is aware he and his staff are already squarely under the microscope after another season concluded without a Canadian Premier League playoff spot.
"I'm grateful we have continuity because that's important," began Dos Santos in a long chat this week with valourfootball.club. "And when I say that I'm grateful it's also because when I got here there was still a lot to be built and to grow. Having a dual role, the truth is you need a bit of time to change and to build things.
"But when you come into a job you know your clock is ticking."
Valour is coming off a 2023 campaign that began with promise – the club had just one loss in its first eight matches, even if that run included six draws and one win. But over its final 20 matches the team was just 5-2-13 and fell to last place overall with just 26 points, three back of expansion side Vancouver FC.
That represented a full-season franchise low dating back to the inaugural season of 2019, and a regression after a season and a half under Dos Santos that featured an increase in points, albeit in a pair of fifth place finishes that were outside the playoff line.
Valour was again plagued by injuries to players who were scheduled to play massive roles, among them Raphael Ohin, Andrew Jean-Baptiste, Jordan Haynes and Abdou Samake, but the team's thin depth and a glaring inability to finish – managing just 25 goals in 28 games – were critical flaws.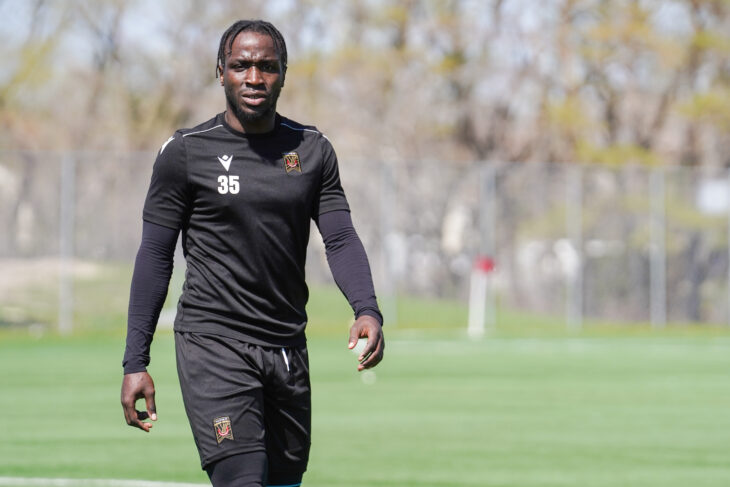 Dos Santos has spent the last week or so doing exit meetings with players and already has an eye on a fix for 2024.
"This is pro sports – you need to win," Dos Santos said. "In our first 12 games we played to six draws with a lot of them coming at home. If we convert three of those draws into wins, you're probably in the Top 2 in the standings in that moment and emotionally it's a lot different because the self-belief is much higher and among teammates.
"Right from the top it's easy that we needed more goals. There were games where we were close and maybe we conceded in ways that were almost naïve. Then there's the emotional factor that comes when the team feels it is playing well but not getting the results that match the way we are playing and the frustration and self-doubt that kicks in.
"Ultimately, it's about building a winning team and be not just a playoff contender but is there every year. I want that to happen here," he added. "That's what motivates me. A season like this fuels me to be better the following year. That's my challenge. I don't take it lightly. I'm very driven to find the solutions for what we need to come back next year and not just be a good team that's hard to play against but plays a good type of football and in moments where things need to tip for us, we find a way to make sure it happens because of the type of group we have in place."
Dos Santos and his staff did augment the roster with an impressive new-to-the-CPL pro like Kian Williams, who tied for the team lead with four goals and the growth in Matteo de Brienne over the last two seasons – he's a finalist for Under-21 Canadian Player of the Year – are encouraging.
But last place is telling. And that's why Dos Santos has already begun chatting with CPL free agents about the opportunities with Valour and he'll keep at that all winter. He also said the club wants to improve its scouting system to get more eyes on the talent playing in League1 Ontario, League1 B.C. and so on.
"It is a possible solution," he said of adding proven pieces in free agency. "We've made those phone calls. We're on it.
"As a GM it's normal that when the team doesn't win, we have to be aggressive. We have to find the solutions and they are in the internal market (CPL) and the international market. The reason why the internal market is important is it's more of a sure value when it comes to adaptation and performances in the league – you have a much better benchmark. It's also in some ways a difficult market because it's a shark tank – the good players will have every team bidding for them.
"There's going to be change, for sure. It's not about a reset, it's about making sure the right players stay and surrounding those players with what we were missing this year. I think this club needs players who want to be here and see the value in being here for their career because they are in a club that is trying to reach something it has not been able to do for years now in making the playoffs.
"The bottom line is we didn't meet our objectives," he continued. "We need to add quality. We need to add leadership, personality… something different. I hate being in this position because at the end of the day you don't want to be repeating yourself every offseason.
"But we need to continue to create an environment that allows younger guys alongside veteran players that help give them that experience. It's always going to be about finding that balance."
Still, as Dos Santos said earlier, the clock is ticking, and Valour FC has a lot of ground to make up on the CPL's elite squads and must act now. How much change Valour undergoes over the next few months is still to be determined. What is important is to remember along the way is the old saying anyone can tear down a barn, but it takes a carpenter to build one.
"I need to look at this and ask, 'What are you going to take out of this?'," said Dos Santos. "People will talk about how we were last, and it was an unsuccessful season. That is true, it wasn't a successful season. But I need to take out of this the good things. I felt that it was a year in which we established an identity with the way we played the game. It's a year where we were able to recruit some players who could be the next layer to give us some longevity to the locker room, guys that have leadership in them and have the ability to show up every day and enjoy the grind.
"If we weren't able to succeed because our foundation was wrong, then we would say we have to blow up everything. I don't think that is the case. I think there is a foundation here and if we had the ability to execute in the key moments, we're converting some of those losses into wins. So, we keep working."
—
5 NOTABLE NUMBERS
Valour FC's 2023 season, captured in numbers…
25
-Goals scored by Valour in 28 matches in 2023. Their 0.89 goals per match was lowest in the league – expansion Vancouver averaged one per match – and was well short of league-leading Cavalry FC, with 46 goals and a GPM of 1.64.
Valour was shut out 11 times this past season and managedjust one goal in 11 more matches. They were a respectable 2-5-4 in games in which they scored just once and had three draws against eight losses in games in which they were blanked – two numbers that show the thin margin for error.
—
4
Diego Gutierrez, Walter Ponce, and Kian Williams all tied for the team league in goals with four. Ponce spent some time up top in the striker role, as did Williams occasionally near the end of the season. But the club desperately lacked a true Number 9, especially after Moses Dyer left in the offseason for the USL.
Just to put that four-goal total in perspective – 19 players in the CPL had five or more goals.
—
4,390
Each CPL team is required to have domestic U-21 players log a combined 2,000 minutes to grow the young talent in this country. Valour's total reached, 4,390 minutes, which was second highest in the league to Vancouver's 5,203.
That number included 1,571 minutes from Matteo de Brienne – a finalist for the CPL's U-21 Canadian Player of the Year – along with 1,256 from Juan-Pablo Sanchez, 1,047 from Jared Ulloa and 516 from Eskander Mzoughi.
—
1.36
Valour conceded 38 goals in 28 matches, or 1.36 per game – ranking seventh in the CPL. Goalkeeper Rayane Yesli finishedwith seven clean sheets, which was tied for third in the CPL.
Worth noting: five of those seven shutouts came in the first 12 matches, with the club managing just two more from August 6 to the end of the season in October.
—
0
-Playoff appearances by Valour FC in its five years of existence.
Valour has an overall record of 36 wins, 26 losses and 57 losses since its inaugural year of 2019.
The club had consecutive fifth place finishes in 2021 and 2022, just outside of the playoff line, but finished eight – last – in 2023.