Positional Preview | The Midfielders
They provided the flourish and the finish. And then they were gone in a flash.
Among the highlights for Valour FC in their inaugural Canadian Premier League season was the play of Marco Bustos and Michael Petrasso, who would invariably lift fans out of their seats at IG Field with their creativity.
But with Bustos having now joined Pacific FC and Petrasso wearing York9 colours after offseason free agent exoduses, two big chunks of the attack are missing – Bustos was the team's leading goalscorer last year with eight, followed closely by Petrasso and Tyler Attardo at six. The two also ranked 1-2 on the squad in chances created, with Bustos at 29 and Petrasso at 11.
Still, this was a club that won just eight and drew four times in 28 matches last year, so the counterpoint is sometimes change can be good.
At least, that's the Valour FC perspective.
"Yes, we saw two big names leave, but we've got two equally big names in Canadian football now in here in Fraser Aird and Brett Levis in those positions," said Valour FC GM and head coach Rob Gale. "I like the character of the new guys and I also like that they've had experience at high levels. Brett as a Vancouver (Whitecaps) first teamer and Fraser with Rangers first team.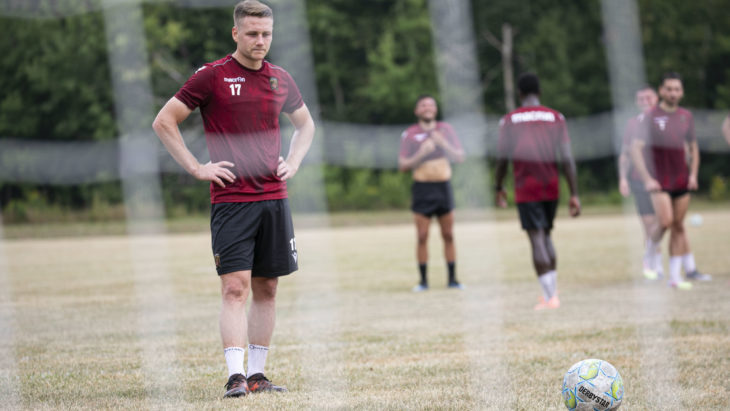 "Look, I love Mike and I love Marco. They're good players and I had a lot of history with them. But when you lose good players you try and go out and replace them with good players and that's what we've done. They're two leaders on the field as well."
Aird arrives after spending most of the last eight years in Scotland – save for an 18-match stretch with the Whitecaps in 2016 – after signing with Rangers at the age of 16. He's also made eight appearances with Canada's men's national team.
Levis, meanwhile, was a star at the University of Saskatchewan before landing with the Whitecaps, including making 24 appearances with the big club.
What has been especially impressive for Gale and his staff through training is the attention to detail Aird and Levis have shown all over the pitch.
"At the highest level they've also played as fullbacks and that builds into a theme where we were probably light defensively with the work our wingers did going in the opposite direction," said Gale. "These boys know that and offer a little bit of that going both ways in their game.
THE MIDFIELDERS
Fraser Aird
Ht: 5-8. Born: 2/2/95
Nationality: Canada
Valour FC GM and head coach Rob Gale on Fraser Aird:
"For me, I think he could be the player of the tournament. He trains and operates on a level different than most Canadian players. You can tell he's been at a high level with Rangers from a young age. He carries himself well through training. He's got the dynamic in everything he does, whether it be closing the ball down or his sharpness in his combination play, his quality in the wide area. I really think he's a top, top level talent for this league."
Dylan Carreiro
Ht: 5-7. Born: 1/20/95
Nationality: Canada
Gale on Carreiro:
"A captain for a reason. Great kid, great character and he's definitely looking more and more like the old Dylan Carreiro this year. He's got the ability to unlock a defence and has the creativity around the final third that when you need someone to pick a lock or go with a hammer and knock down a door, he's your guy. I think people will see a big difference in Dylan's play from last year."
Moses Dyer
Ht: 5-10. Born: 3/21/97
Nationality: New Zealand
Gale on Dyer:
"Moses seems to be a gamer. It's going to be real interesting with him because he's got lots of good, physical tools with a strong upper body and he's tall, rangy. He can thump a ball. He can really hit a strike with great power and as an attacking midfield type player he's good in 1v1, he's good in combination and can run with the ball. He's got a lot of tools as a midfielder who can add some good dynamics and versatility to your attacking options."
Daryl Fordyce
Ht: 6-0. Born: 1/2/87
Nationality: Northern Ireland/Canada
Gale on Fordyce:
"A captain's approach to the game and probably has the best football brain of anyone. He's a coach on the field, very similar to Jose Galan in that thought. He's attacking-minded and as a former striker he's a clever finisher. If he gets a half a chance in and around the box there's a likelihood he's going to take it. He's got all kinds of finishes in his locker. Look for him to get into those attacking areas. Another versatile player who has a different edge when he gets in front of the goal."

Jose Galán
Ht: 5-10. Born: 2/2/86
Nationality: Spain
Gale on Galán:
"Great character, great experience. He's very much a role player now in his career and he understands that. He can be useful to come on and close a game down for you and one thing you know with Jose is he's going to show his energy and passion on the field. He has his heart on his sleeve and you know he's going to give it his all."
Diego Gutiérrez
Ht: 5-10. Born: 2/18/97
Nationality: Canada
Gale on Gutiérrez:
"We had to use him in different ways last year and this year we're going to try and keep him more in the centre of the midfield areas. He's got great technical capacity as people saw last year. What we want to see more from Diego this year is him blossoming into that attacking quality because he can score goals and he gets into good areas, but he doesn't always take that shot. So, when he quickens up his game and is a little bit bolder in front of the goal he can really be a complete midfielder. He's very young and there's a lot of room for growth."
Brett Levis
Ht: 5-8. Born: 3/29/93
Nationality: Canada
Gale on Levis:
"He's tactically astute and communicates well with the group. We're bringing out the dynamic attacking qualities that he had before he went to the Whitecaps when he got pigeon-holed as a fullback and was pushed further back down the field. Similar to when (Michael) Petrasso joined us last year and had been used with national teams and other clubs in the back, we're trying to ignite Brett in the attacking half again. He's got a wonderful left foot, a great ability to finish and his final pass is very, very good."
Raphael Ohin
Ht: 5-7. Born: 5/25/95
Nationality: Canada/Ghana
Gale on Ohin:
"He has all the tools. He's strong. He has power over a few yards. He's got the skills and technical capacity, and he's just working to piece it all together with his tactical game and not try to do everything all the time. When he simplifies his game and connects the game as well he's a very, very talented midfielder."
Dante Campbell
Ht: 5-10. Born: 5/22/99
Nationality: Canada
Gale on Campbell:
"He's the Energizer Bunny right in the middle of the park. The heart of a lion and also has a good technical capacity that sometimes gets overlooked because he works so hard. He's a cross between a holding midfielder and an N'Golo Kanté, who's playing at Chelsea. The old joke is water covers 70 per cent of the earth and N'Golo Kanté covers the other 30. Well, Dante has the same kind of capacity. He's energetic. He breaks up opposition plays, he's tough, he's robust. He's an energetic player the fans will love seeing play because he gives his all in every single minute of every single game."
---
Valour FC preview series:
Next: The Forwards
Previous: The Defenders